Salut,voici la photo d'un petit hyménoptère que j'ai capturé en observant un nid de solenopsis geminata. Il se promenait sur le nid sans que les fourmis y prête vraiment attention. Alors, je pense qu'il s'agirait de la famille Encyrtidae appartenant à la super-famille des Chalcidoidea, et je me mouille même en disant qu'il s'agirait du genre Anagyrus.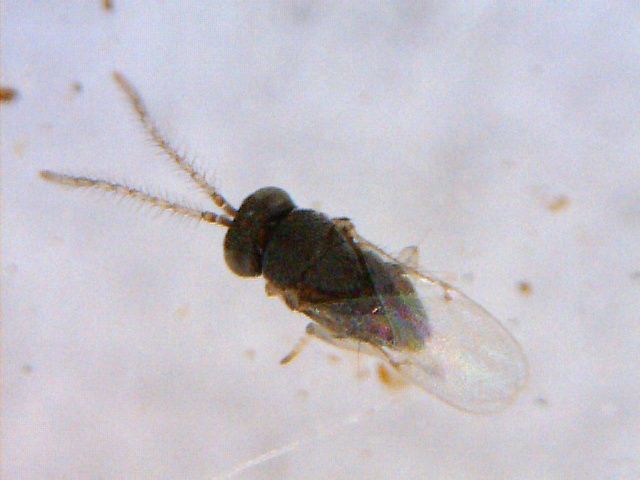 Individu capturé à Fort-de-France/quartier Redoute/ 1-1.5mm/ Juillet 2012

thierry




Messages

: 114


Date d'inscription

: 2011-06-14


Age

: 28



Tu penses qu'il pourrait s'agir d'un parasitoïde de fourmi?

_________________
It seems therefore that a taste for collecting beetles is some indication of future success in life!--Charles Darwin

Pierre-Damien




Messages

: 389


Date d'inscription

: 2011-04-29


Localisation

: Martinique



c'est vrai qu'il est curieux d'avoir capturer cet hyménoptère à cet endroit, mais à ma connaissance les specimens de ce genre sont plutôt des parasitoïdes de cochenilles il me semble.. donc je ne sais pas..

thierry




Messages

: 114


Date d'inscription

: 2011-06-14


Age

: 28



Chalcidoidea => ok à 200%
Encyrtidae => ça y ressemble mais d'autres familles proches sont assez semblables... je dirai ok à 75%
Anagyrus => Aucune idée

!!
Si tu t'en sens motivé, il y a deux clés pour l'identification des familles d'Hyméno :
Celle de
Delvare et Aberlenc
Celle de
Goulet et Huber
La première est simplifiée et plutôt aisée, la seconde est plus stricte mais plus sûre aussi
Je connais les diptères parasitoïdes de fourmis (Phoridae) alors pourquoi pas des chalcidiens parasitoïdes de Formicidae, il y a une telle diversité dans ces micro-parasitoïdes

!!

Thibault R.




Messages

: 101


Date d'inscription

: 2012-05-11


Localisation

: Bretagne




---
Permissions in this forum:
You
cannot
reply to topics in this forum