Je pensais à une nouvelle espèce pour la Guadeloupe comme je ne trouvais pas de citation du genre
Notoxus
pour cette île mais grace à la dernière publi de
Peck
(& Cie) sur les Coléo de Guadeloupe, j'ai pu trouver la description de cette espèce qui correspond tout à fait à mon spécimen.
Voilà
Squamanotoxus guyanensis
(Pic, 1914) !
Cette espèce a été décrite sous le nom de
Notoxus guyanensis
Pic, 1914 de Guyane française puis redécrit par Bonadona de Guadeloupe sous le nom de
Mecynotarsus chalumeaui
Bonadona, 1981.
En Guadeloupe, cette espèce semble particulièrement apprécier les hauts de plage où, selon Bonadona, elle court et est difficile à attraper.
Je l'ai effectivement collecté en haut de plage sur l'Ilet Gosier.
J'ai la publi de Bonadona sur les Anthicidae de Guadeloupe en pdf si ça intéresse quelqu'un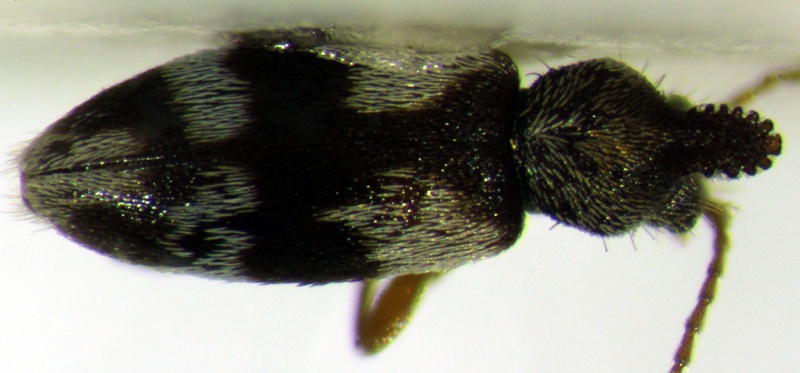 Thibault R.




Messages

: 101


Date d'inscription

: 2012-05-11


Localisation

: Bretagne



Etrange coléo que tu nous montres là. Sais-tu si l'avancement du pronotum au dessus de la tête à une fonction particulière?



_________________
It seems therefore that a taste for collecting beetles is some indication of future success in life!--Charles Darwin

Pierre-Damien




Messages

: 389


Date d'inscription

: 2011-04-29


Localisation

: Martinique



Bon j'ai pas précisé mais la bestiole fait 2-3 mm de long, on est loin du dynaste mâle et de sa "corne"  

J'ai beau chercher, je ne trouve pas de biblio parlant d'une quelconque utilité à cette corne. Je donne ma langue au chat à ce propos !

Thibault R.




Messages

: 101


Date d'inscription

: 2012-05-11


Localisation

: Bretagne




---
Permissions in this forum:
You
cannot
reply to topics in this forum